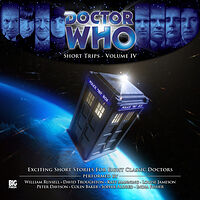 Note: Fourth of a series of Short Trips audios, featuring readings of all-new short stories.
Cover blurb:
Classic Doctors... Brand-New Adventures!
Get ready for eight fantastic new adventures in space and time with the Doctor and his companions, featuring stories from many of Doctor Who's most popular authors from the worlds of television, print, comics and audio, as well as new talent and fresh voices.
Performed by:
William Russell • David Troughton • Katy Manning
Louise Jameson • Peter Davison • Colin Baker
Sophie Aldred • India Fisher
Contents:
A Star is Born by Richard Dinnick, read by William Russell
Penny Wise, Pound Foolish by Foster Marks, read by David Troughton
Lost in the Wakefield Triangle by Vin Marsden Hendrick, read by Katy Manning
The Old Rogue by John Grindrod, read by Louise Jameson
The Lions of Trafalgar by Jason Arnopp, read by Peter Davison
To Cut a Blade of Grass by Cindy Garland, read by Colin Baker
The Shadow Trader by Charles Williams, read by Sophie Aldred
Quantum Heresy by Avril Naude, read by India Fisher