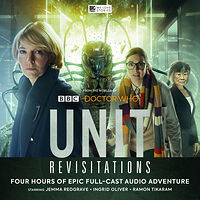 Note: Exclusively available from the Big Finish website until 31st January 2019.
Cover blurb:
FOUR HOURS OF EPIC FULL CAST AUDIO ADVENTURE
Starring JEMMA REDGRAVE • INGRID OLIVER • RAMON TIKARAM
Over the years, UNIT has faced hundreds of extra-terrestrial threats. The Black Archive holds relics of many such encounters, and UNIT's files are filled with reports of strange and dangerous aliens.

And sometimes, they come back.
HOSTS OF THE WIRRN by CHRIS CHAPMAN
BREACH OF TRUST by DAVID K BARNES
OPEN THE BOX by ROY GILL