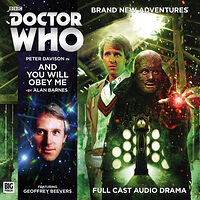 Note: Released on April 12 exclusively via the Big Finish website. The general release date for Amazon and other retailers will be May 31.
Cover blurb:
The Master: wanted for crimes without number, across five galaxies.
The Master: escaped his pursuers. Last known location: rural Hexford, England, Earth.
The Master: dead and buried in an unmourned grave, in a lonely churchyard.
Apparently.