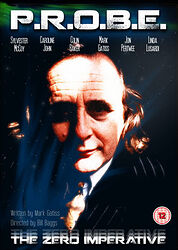 Note: Region 0 DVD-R disc, exclusively available via UK retailer Galaxy 4. First in the P.R.O.B.E. series of spinoff video dramas, about the activities of a Torchwood-esque agency called the "Preternatural Research Bureau". The Doctor Who connection comes from the choice of Whovian actors, particularly Caroline John who is explicitly reprising her role as Liz Shaw from the Pertwee era of the show. Previously released on video.
Cover blurb:
THE RETURN OF CAROLINE JOHN AS LIZ SHAW (FROM BBC TV'S DOCTOR WHO)
Former UNIT luminary Liz Shaw and her assistant Bayliss are investigating a series of bizarre murders, all committed near a soon-to-be-closed psychiatric hospital. When the hospital is unexpectedly reprieved by rich industrialist Peter Russell, events seem to move out of Liz's control. Are the incumbent director of the clinic, Doctor Dove and his predecessor Doctor O'Kane harbouring the killer?
What is the centuries old horror hidden in the grounds? And exactly what is the secret of room zero?
Digitally remastered including enhanced visual effects by Alastair Lock
Additional Material: Deleted Scene