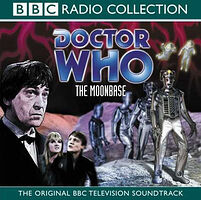 Note: Subsequently remastered and re-released as part of The Lost TV Episodes: Collection Three box set, and also available as an novel reading, based on Gerry Davis's 1975 novelisation (retitled The Cybermen).
Cover blurb:
Patrick Troughton plays the second Doctor in this four-episode adventure from 1967, set on Earth's moon and featuring a return appearance by the emotionless Cybermen.
The year is 2070, and Earth's weather is controlled by a device called the Gravitron, based on the Moon and manned by an international team of experts. The TARDIS arrives to find the base in the grip of a plague epidemic which is drastically reducing the personnel. Before long an even greater menace is proved to be responsible — an invasion force from the planet Mondas, home of the Cybermen...
The soundtrack presented here includes linking narration by Frazer Hines, who played Jamie in the story itself. It includes the only surviving versions of episodes 1 and 3, whose film recordings no longer exist in the BBC Television Archives.