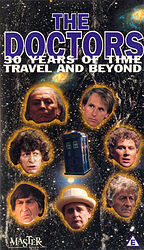 Edition:
UK (original VHS)
When:
September 1995

Publisher:
Master Vision
Format:
1 x VHS PAL
Owned:
Buy:
Cover blurb:
More than 30 years have now passed since a certain time travelling police box first materialised on our television screens, and the exploits of its various crews have enthralled audiences ever since.
Here is the story of Britain's Number 1 Science Fiction programme told in order of the various actors who have played the Doctor. This includes specially shot interviews with Sylvester McCoy, Peter Davison, Colin Baker and Jon Pertwee, all of whom share their memories of bringing the scripts to life before the cameras. There is, for the first time, previously unseen behind the scenes home movie footage taken from such adventures as "The Smugglers", "The Abominable Snowmen", "The Daemons" and the unfinished Tom Baker story "Shada". There is a unique collection of unpublished photographs spanning all of the 7 Doctors. The programme also includes a look at the newly designed Ice Warrior and Cyberman models which are to be used in a forthcoming production.
Apart from the various actors who have played the Doctor, the programme also includes past production personnel such as director David Maloney, producer Philip Hinchcliffe and former BBC Head of Serials and Drama, Shaun Sutton. There are also a host of Actors and Actresses who have played the Doctor's various assistants down the years, each giving us an insight into what made the series so special.
"THE DOCTORS, THIRTY YEARS OF TIME TRAVEL AND BEYOND" is based on the best selling book by Adrian Rigelsford and offers a comprehensive and candid look at a series that continues to grow in popularity, even though the series came to an end in 1989, and proves that the Doctor will certainly never be forgotten.