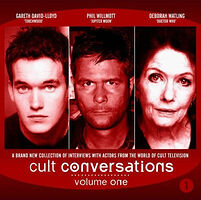 Note: Publisher's description as follows:
This is the first of a new collection of interviews with actors from the world of cult television: Gareth David-Lloyd (Torchwood), Phil Willmott (Jupiter Moon), and Deborah Watling (Doctor Who). (Note however — no further volumes have been released to date.)
Cover blurb:
No cover information available yet.
Help wanted! Do you own this item? Please help make this site more complete by emailing me details of the back cover blurb. Thanks!