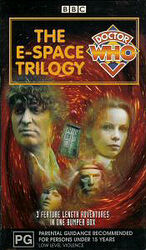 Edition:
Australia
When:
July 1998

Format:
3 x VHS
Owned:
Buy:
Cover blurb:
FULL CIRCLE
The TARDIS travels through a portal in space that leads to a different universe altogether — E-space. The Doctor and his friends are soon caught up in a bitter war of evolution on the planet Alzarius ...
STATE OF DECAY
Searching for a way out of E-Space, the Doctor finds an ancient threat to the cosmos gatehering [sic] strength on a planet seemingly trapped in a medieval state of decay ...
WARRIORS' GATE
A strange gateway in a white void seems to offer a way back from E-Space to our own universe. But another spaceship with a distinctly hostile crew has also found the gateway, and the void is getting smaller all the time ...