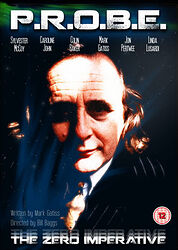 Note: Region 0 DVD-R disc, exclusively available via UK retailer Galaxy 4. First in the P.R.O.B.E. series of spinoff video dramas, about the activities of a Torchwood-esque agency called the "Preternatural Research Bureau". The Doctor Who connection comes from the choice of Whovian actors, particularly Caroline John who is explicitly reprising her role as Liz Shaw from the Pertwee era of the show. Previously released on video.
Cover blurb:
No cover information available yet.
Help wanted! Do you own this item? Please help make this site more complete by emailing me details of the back cover blurb. Thanks!