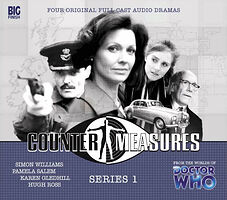 Note: Box set of spin-off audio dramas featuring the supporting characters Dr Jensen & Group Captain Gilmore from Remembrance of the Daleks. Followed by Counter-Measures: Series 2. Publisher's description as follows: After the mysterious events at Coal Hill School, the British government has created the Counter-Measures group, a specialist team that investigates strange phenomena and dangerous technology. Their first missions will involve a haunted warehouse, a ground-breaking artificial intelligence, a mysterious new town and a threat to the future of the country...
Cover blurb:
No cover information available yet.
Help wanted! Do you own this item? Please help make this site more complete by emailing me details of the back cover blurb. Thanks!