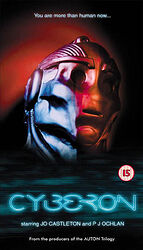 Note: Subsequently released on DVD. Unauthorised spin-off drama not directly featuring any Doctor Who characters or enemies, but the central premise (a race of cybernetically-enhanced humanoids) is intended to be similar to the Cybermen — but not similar enough to cause trademark infringement! The Cyberons have also featured in the BBV audio dramas Cyber-Hunt and Cybergeddon.
Cover blurb:
"Cyberon's a new kind of smart drug — one that's smarter than we are."
Doctor Anderson's patients have permanent brain injury or suffer from brain diseases for which there is no cure. When Thomas Mordley begins introducing tests of Cyberon on her patients, Dr Lauren Anderson thinks she already knows how the trial will end — there will be some benefits, but no significant improvement in their condition.
Doctor Anderson is wrong...
Cyberon is different. Mordley knows it's a wonder drug, and it's going to revolutionise medicine. He thinks it may even revolutionise the world. But does he realise that Cyberon has its own plan?
And if he does, could he do anything to stop it?