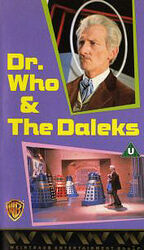 Edition:
UK (reissue 1)
When:
June 1988

Publisher:
Warner Home Video
Format:
1 x VHS PAL
Owned:
Buy:
Note: A number of variant sleeves exist for this release, all using the same basic design but with wording added across the top — one saying "Dr Who's First Big-Screen Adventure", another saying "WH Smith Exclusive" (This release was initially only available in UK retailer WH Smith).
Cover blurb:
The first screen adventure based on the ever-popular BBC television science fiction series.
Join Dr. Who as he is transported by the TARDIS through time and space to the future planet Skaro devastated by radiation fall-out.
There the Timelord battles the mutated alien Daleks who threaten to exterminate the peace-loving Thals by detonating a neutron bomb.